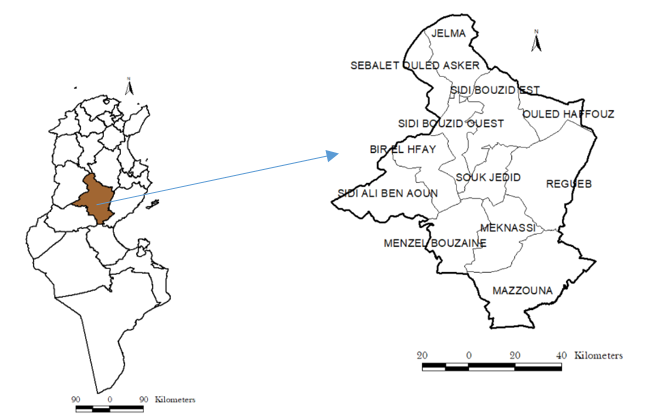 Description
SUPROMED demonstration will be carried out in Sidi Bouzid area, located in the Center of Tunisia. The irrigated area covers more than 50,000 ha, where the 88% (44,000 ha) belong to private farmers while the rest are managed by the Government. The average annual rainfall is 190 mm, which is characterized by significant annual fluctuations. This region is classified as arid with cold and humid winters and hot and dry summers. The average annual evaporation is 1,470 mm. Therefore, agriculture is primarily based on irrigation using groundwater. Soils are deep with an organic matter content ranging from 0.5 to 1.5%, being suited for the majority of the crops. Despite its large performance for agricultural production, yield per hectare remains below the potential and fluctuates considerably, which is attributable mainly to the weak adoption of improved agricultural practices by famers. Annual cultivated crops in the region include: vegetables, fodder and cereals. Tree crops mostly include olive, pistachios and almond trees. All farms are equipped with pressurized irrigation networks. However, the irrigation system depends on the type of cultivated crops: drip irrigation for vegetables and young trees, and surface or furrow irrigation for cereals, fodder and old trees.
 Some farmers are attempting to use drip irrigation for cereals (wheat, barley) and fodder (oat, sorghum, alfalfa) as an alternative to labor shortages and the rising cost of irrigation resulting both from increasing energy prices and pumping depth. The association of crops and livestock is a common practice in the area. Some farms grow livestock (cattle and sheep) to increase the soil fertility supplying manure. For other farms, breeding (especially sheep farming) is practiced with the aim of ensuring liquidity throughout the year. Livestock consists of raising an important herd of sheep grazing on rangeland, fodder crops and crop residues. Livestock procures an important economic return. Mixed-farming systems, not only allow farmer to mitigate risks by producing a multitude of commodities, but they can also increase the productivity of both crops and animals in a more profitable and sustainable way.
Specific problems
Problems of agricultural sector in Sidi Bouzid are glaring, which caused the deterioration of the profitability of some agricultural activities. The most important are as follows:
Sidi Bouzid area is vulnerable to climate variability and change, which directly affect agricultural production and productivity due to rainfall shortage and a decline in water reserves.
The lack of water resources is one of the main handicaps for the agriculture in this area.
Overexploitation of underground aquifers causing an alarming situation, which led to a drop in water levels (Average annual decrease of groundwater is about 0.5 m), in particular surface wells, and resorted to their deepening or the abandonment of some of them.
The rate of irrigation water loss is currently estimated at 30 to 40%
Recourse to deep drilling in prohibited and under maintenance areas to replace surface wells
Difficulty in determining the total number of surface or deep wells due to the phenomenon of random drilling
The high cost of pumping water, which led to an increase in the cost of production.
Land degradation associated with the increase salinity of irrigation water for certain aquifers
Weak adoption of appropriate agricultural technologies by farmers (use of traditional practices)
Lack of technical assistance for farmers and ineffectiveness of the agricultural extension system
Lack of tools and irrigation advisory services for determining the irrigation requirements of crops at farm level.
Poor integration of ICT in the agricultural sector
Water use efficiency does not exceed 0.9 kg/m3 in irrigated area, while the potential at research plots is greater than 1.6 kg/m3.
Drought Assessment 2021 – 2050, Tunisia
Results of the Tunisian Demo site : 
- English 
List of stakeholders
National Institute of Field Crops (INGC)
National research Institute of rural engineering, Water and Forests (INRGREF)
Regional Commissary for Agriculture Development of Sidi Bouzid (CRDA)
Tunisian Union of Agriculture and Fisheries (UTAP)
Institution of Agricultural Research and Higher Education (IRESA)
Agricultural Professional Training Center in Sidi Bouzid (CFPA)
Agricultural Extension and Training Agency (AVFA)
Regional Center for Agricultural Research in Sidi Bouzid (CRRA)
Tunisian Farmers Union (SYNAGRI)
Regional Union of Agriculture and Fishing in Sidi Bouzid (URAP)
National Institute of Agronomic Research of Tunis (INRAT)
Directorate General of Agricultural Production (DGPA)
Ministry of Agriculture, Water Resources and Fisheries (MoA)